'Shrek The Musical' makes everyone a believer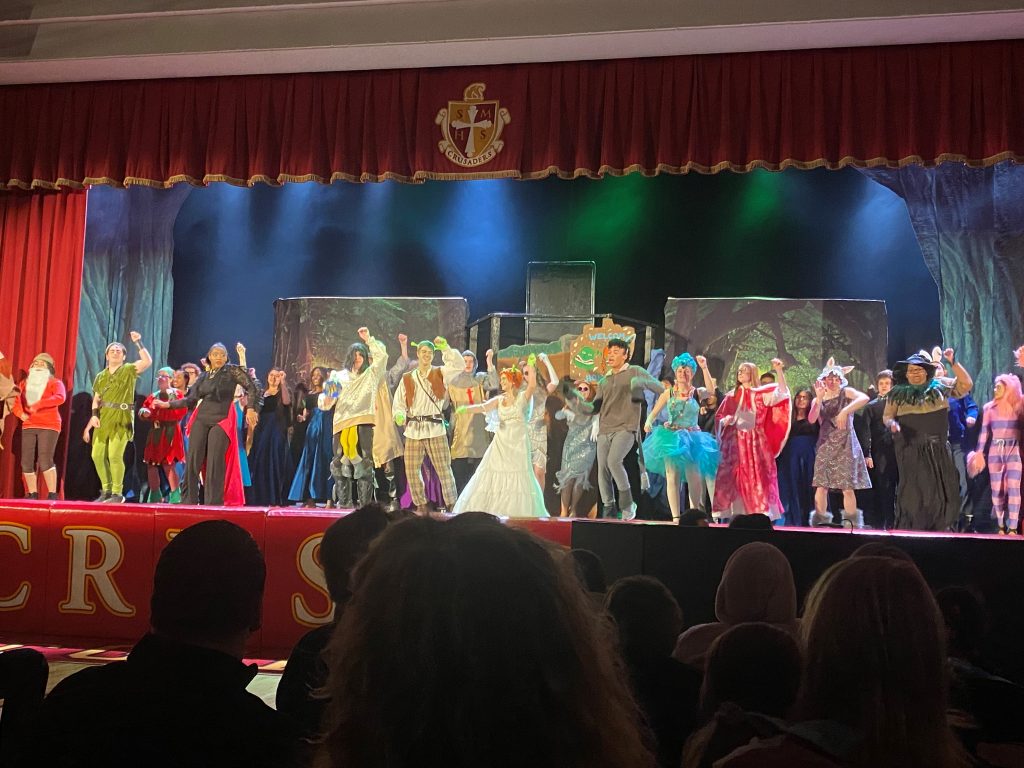 The Scecina Theatre Department returned to the stage St. Patrick's Day weekend to present "Shrek The Musical." An audience of all ages enjoyed this full-scale production of a fairy tale adventure.
"Shrek The Musical," directed by Scecina theater teacher Leslie (Zimmerman) Young '99, is a retelling of the Oscar-winning DreamWorks Animation film "Shrek," along with elements of "Shrek 2" and William Steig's 1990 book "Shrek!".
The performance featured a host of familiar characters, including Shrek, Donkey, Princess Fiona, Lord Farquaad, and many other standout characters Shrek fans know and love.
The beloved Shrek characters, Shrek and Donkey, were portrayed by senior Andrew Causemaker and junior Tanner McCormick-Messer. Princess Fiona and Lord Farquaad were performed by seniors Ava Smith and Liam Martin.
"The musical production was formed with hard work, dedication, and ultimately ended with lots of laughter. I found a second family in the Scecina Theatre Department. I am so thankful to have participated in the musical for the past four years, and I strongly encourage the future Scecina students to join this fun-filled environment," said Ava Smith.
As with any Broadway production, the costumes, set pieces, props, choreography, and music were all key to the success of this fairy tale performance.
Thirty-six Scecina students appeared on stage with fourteen critical crew members, led by production stage manager and senior Emily Gonzalez. Emily supported everything from backstage management, set changes, lighting design, and sound.
Emily shared, "The musical was a long and rewarding journey! Overseeing the crew and encouraging the cast led me to satisfaction with our performances. This year the cast was filled with a lot of heart and commitment that made my job easier to help present a heartfelt show."
According to Emily, Shrek's stage crew had a great understanding of the show's setting, and they all used their prop-building skills to bring Shrek's world to life.
"Getting the show ready involved the whole ensemble committing to their role or job and trusting in others to do the same. The whole process was made easier with the amount of joy that the cast and crew brought to each other."
Chris Ritchie, Scecina's music director, led music and pit direction, and Jennifer Walker '99 acted as choreographer. Together they produced a lighthearted and whimsical mood to perfectly match the plot and playful characters.
"The second that I stopped worrying about messing up was the second I started having fun. I LOVED spending time with everyone who participated in the musical this year, and most of the crew were either complete newcomers or taking a different perspective on theatre. I truly appreciated having the honor to play Donkey, and I'm excited for what's next to come for my last year at Scecina," said Tanner McCormick-Messer.
Andrew Causmaker, who played Shrek, added, "The musical was definitely outside my comfort zone when I first did it my junior year, but now, I would encourage everyone to try it. It's probably the most fun I've ever had."
"Everyone involved in the musical did a fantastic job! Scecina is grateful for the artistic talents of our actors, actresses, crew, and directors. Ms. Young, Mr. Ritchie, and Ms. Walker did yet another outstanding job of leading and supporting our aspiring and extremely gifted students," wrote Scecina President Joe Therber.
Scecina also hosted a special grade school performance for all the East Deanery schools. Laughter and loud applause filled the gymnasium, and the grade schoolers were found dancing in their chairs throughout the entire musical.
Little Flower Catholic School teacher Cassie (Byrd) Echegaray '07, shared on a community Facebook post, "I loved it! My kids thought all the characters were great. We are so happy and grateful Scecina invited us to this special performance."
Theatre Director Leslie Young admitted that it's bittersweet when it is time to say goodbye to one of the theatre dpartment's shows.
She added, "The cast and crew of 'Shrek the Musical' captured a piece of my heart with the community they established together. The final weeks of this production were a joyful celebration of their hard work and the connection they formed to each other and this story. I hope the audience feels that joy from the Scecina stage. I am grateful that I got to be a part of this group's journey…an exploration of loving yourself as you are, embracing others who may be different from you, and sharing your uniqueness with the world to make it a better place. I could gush about this company all day, but as Shrek would say to me, 'that'll do Ms. Young… that'll do.'"
A digital playbill is available to view the entire cast and crew. Click here to view the playbill. You can also view more pictures and follow the Scecina Theatre Department's adventures on Instagram @scecinatheatre.