Campus Crusade 2021 sponsors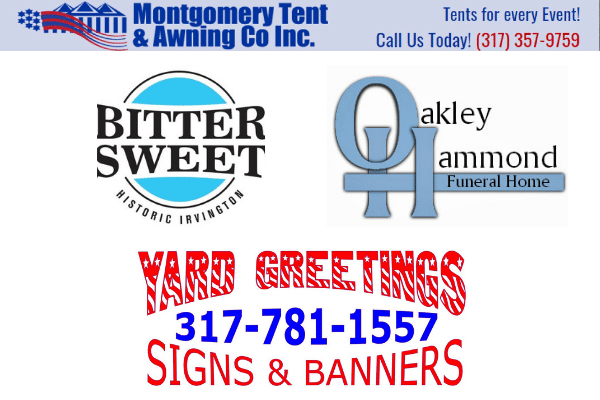 Campus Crusade 2021
SCHOOL WALKATHON for STUDENTS: Friday, May 21, 2021
DONATION: $30 per student
Proceeds: This year the walkathon benefits the student-produced "Red and Gold Show" to purchase new computers and infrastructure.
COLLECTION DAYS: 7:30 a.m. to 8:15 a.m. May 11, 12, 13, 18, 19, and 20 at school. Please turn in your donation with a completed donation card in the envelope that materials came in with your name on the front of the envelope.
PRIZES FOR STUDENTS
Special incentive: All students who donate $30 can dress out of uniform during Finals Week if 30% percent of students donate to Campus Crusade
Grand Prize: Apple AirPods Pro ($249 value) – drawing on May 21, Campus Crusade Day.
Three prizes of $100: 2 drawings for $100 cash on May 21 and Early Bird drawing for $100 cash on May 13.
Early bird drawing on 5/13: $100 and the winner will be put back into the raffle for the other drawings that occur on May 21.
Students who d

onated $75 or more get 3 entries into the drawings.

Class with the highest participation: All members of winning class who also donated to Campus Crusade receive another extra entry into the drawings.
Online students: You are welcome to join us on May 21. Your packets are available to pick up in the main office. You also can donate using the form below.
Attendance on May 21: Attendance will be taken for all students during first period Friday. They will be in G1.  If students are not online or in person for attendance, they will be considered Absent Unexcused, unless a parent contacts the school.
VIRTUAL WALKATHON FOR ALUMNI AND FRIENDS: Friday, May 21, Saturday, May 22, or Sunday, May 23
$20 donation
Not a current student or staff member? You still can join us for a walkathon. When you register and pay $20, we will email your Printable Race Bib (pictured below) to download. When you register, please add "Campus Crusade" in "Special Notes Regarding Your Gift."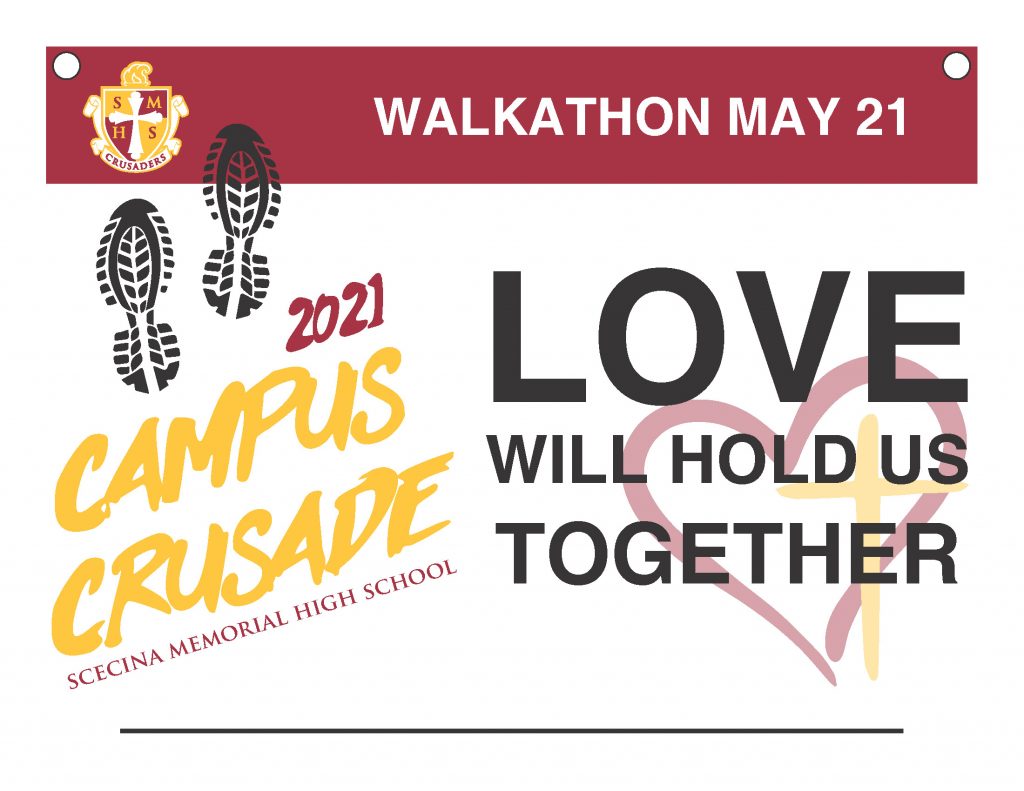 Virtual Campus Crusade FAQs
What is a Virtual Campus Crusade?
While Scecina students will be walking at school on May 21, we invite our alumni and friends in the community to participate in "virtual" walkathon in which anyone in the Scecina Community can walk or run in their own community or neighborhood.
A "virtual" Campus Crusade has the bonus of connecting even more people in the Scecina Community. Scecina alumni and friends live in all parts of the country and even throughout world. With the virtual event, for the first time, they can join with our students and others to walk this year in support of Scecina.
When will the Virtual Campus Crusade take place?

You can walk on Friday, Saturday, or Sunday, May 21, 22, or 23.
How far are we supposed to walk?

We suggest a 5K walk or run, which is 3.1 miles.
Where can I run or walk?

Anywhere!  Trails or sidewalks, even inside on a treadmill. Wherever you can! Get out and get active. Encourage your fellow students, family, friends, and fellow alumni to do the same.  Just be sure to stay safe and keep your "social distance."
Do I need to register for the walkathon?

If you register and donate, you will be able to download and print a Campus Crusade 2021 "race bib" to wear when you walk or run.
If I choose to donate only, how can I do that?
You can donate through our regular giving page: www.scecina.org/give. Please mark "Campus Crusade" in the comments. You can mail a check to Scecina, 5000 Nowland Ave., Indianapolis IN 46201, and write "Campus Crusade" in the memo line.
How can I let others know I'm participating?
Please tell others! Follow the Virtual Campus Crusade on Scecina's Facebook and Twitter pages. Then, share your training photos and race day festivities or video using the hashtag #Crusade2021. A virtual event will be more successful the more you share your photos and videos.
What if I have other questions?
Please contact Beth Murphy at bmurphy@scecina.org.
If you are fundraising, submit funds collected to our office before May 31 to include your efforts in our totals. Click Here to Donate