Longtime Scecina educator John Hegarty is Indianapolis Irish Citizen of the Year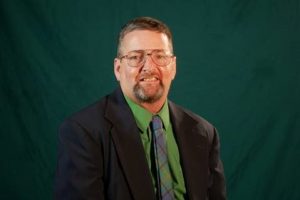 If you are among the Scecina friends who have traveled to Ireland on one of John Hegarty's legendary Irish tours or spent much time with Mr. Hegarty at school or a Scecina soccer match or Indy Irish Fest or McGinley's Golden Ace Inn, this news probably will not surprise you: He is the Indianapolis 2021 Irish Citizen of the Year.
The Scecina Community now has more to celebrate in March as John Hegarty presides over some St. Patrick's Day events.
John grew up in County Donegal in Ireland and arrived in Indianapolis in 1988. He was a Crusader soccer coach for years before joining the staff as an English teacher in 2000 and has served as principal, vice principal, and athletic director. His current ministry at Scecina is as director of International Programs. He is married to Patty Dugan Hegarty and is the father of two Scecina graduates, Joseph '15 and Eamon '16.
On St. Patrick's Day, as Irish Citizen of the Year, John will attend the 8 a.m. Hoosier Lottery Greening of the Canal with Indianapolis Mayor Joe Hogsett, Indiana Lt. Gov. Suzanne Crouch, and Hoosier Lottery Executive Director Sarah M. Taylor.
Since 1978, The Athletic Club and now the Athletic Club Foundation has selected an Irish Citizen of the Year. The honor goes to a man or woman who exemplifies the spirit of their Irish heritage through their continued service to the Indianapolis community, to their family, and other selfless acts that personify being Irish. Normally, the Irish Citizen of the Year presides as grand marshal at the annual Indianapolis St. Patrick's Day parade, but the parade has been canceled again this year because of COVID-19.
Some former recipients of the Irish Citizen of the Year Award include former U.S. Sen. Joe Donnelly, Archbishop Joseph Tobin, and Father Glenn O'Connor, as well as Scecina graduates Kevin Murray '71, Tim McGinley '58, and Jack Moriarty '58.
John certainly fits the bill to be Indy's Irish Citizen of the Year. He:
Is a member of the Ancient Order of Hibernians
Served twice as president of the AOH Kevin Barry Division
Served as president of the Indiana State Ancient Order of Hibernians
Continues his long association with the Indy Irish Fest that began with its founding
Serves as a bartender each St. Patrick's Day celebration at the Golden Ace, where he previously worked full time
Played Gaelic football in Ireland. He won a Donegal championship medal in 1980 with Kilcar and was the club's youngest chairman in 1981.
John's father was an American who met John's Irish mother while working in Ireland. They moved back to his father's hometown of Indianapolis.
His family lived in several different places, including Corpus Christi,  Texas, where John was born, and Ketchikan, Alaska. When he was 10, John and his family returned to his mother's hometown village of Kilcar in County Donegal. John still calls Kilcar "home."
The town has had a long tradition of spinning, knitting, and weaving Donegal tweeds. His youngest brother Vernon lives in Kilcar.
John was a serious player involved in both soccer and Gaelic football in Ireland.
Moving back to the States when he was 28, John worked at McGinley's Golden Ace Inn, a well-known gathering place for Irish Americans in Indianapolis.
"When I came here, they (the McGinleys) were very good to me," he said. "I worked there off and on for 10 years, and now go back each St. Patrick's Day to help tend the bar."
John went to college, married his wife, had two sons, and has held several positions at Scecina.
Ask someone who has been on one of John's tours of Ireland for some good stories. He has organized at least four visits for Indianapolis residents, including many from the Scecina community. Twice he took Crusaders soccer players and family members.
"In 2004, we took the soccer team again and had over 100 people. It was a great trip," he said. "People still talk about that trip."
Friendships are what he misses most about Ireland. Facebook and trips home have helped bridge that gap. The Indianapolis Irish Community is close-knit as well, he said. "It kind of reminds me of home," he said. "Everybody looks after each other."